My Blog
Posts for tag: tooth decay
By Daniel J Poticny DDS
October 17, 2019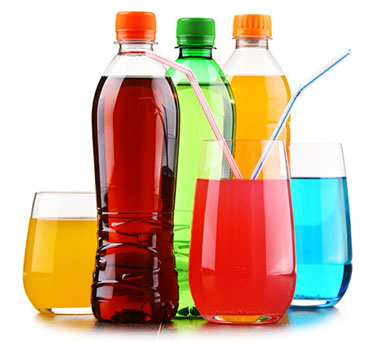 Tooth enamel, to play on a phrase from Shakespeare, is made of "sterner stuff." The strongest substance in the body, enamel can take years of biting and chewing and keep on going.
It does have one nemesis, though—mouth acid, which can soften and erode enamel's mineral content. This is less of a concern if you have healthy saliva flow, because saliva neutralizes acid in thirty minutes to an hour after an acid attack and can also help re-mineralize the enamel. Daily brushing and flossing also help curb mouth acid by reducing the bacteria that produces it.
But as effective as saliva is at neutralizing mouth acidity, it can be overwhelmed by outside acid derived through certain foods and beverages. In the past couple of decades, at least two of these acid sources have grown in prominence: energy drinks and, believe it or not, sports drinks.
Just how acidic are they? The pH scale runs from 1 to 14, with acidity on the low end and alkalinity on the higher (7 is neutral). Tooth enamel begins dissolving below 5.5. Laboratory tests have pegged the average pH of energy drinks at 3.05 and sports drinks, 2.91.
Because of their acidity, frequent energy or sports drink consumption will bring mouth pH into the danger zone for tooth enamel. It's even more likely if these beverages are sipped over an extended period, which can prevent saliva from getting ahead of any newly introduced acid.
Keeping your distance from these beverages is probably the safest bet. But if you do imbibe occasionally, follow these common sense tips:
Avoid sipping the beverage over long periods—and try to limit drinking them to meal times;
After drinking a beverage, wash your mouth out with water and wait an hour to brush to give your saliva time to neutralize any acid.
Practice consistent, daily brushing and flossing.
Above all, keep a healthy respect for acidic foods and beverages like energy and sports drinks and don't overuse them. Your tooth enamel will appreciate it.
If you would like more information on the effect of sports and energy drinks on dental health, please contact us or schedule an appointment for a consultation. You can also learn more about this topic by reading the Dear Doctor magazine article "Think Before You Drink Sports and Energy Beverages."
By Daniel J Poticny DDS
October 22, 2018
Over the last century effectively treating a decayed tooth has often required removing any decayed structure with drilling and then filling the remaining cavity. While this approach does save teeth that might otherwise be lost, it can also result in a fair amount of healthy structure removed in the process.
But continuing advances in dentistry are now making possible a new approach to tooth decay treatment that preserves as much of the healthy portions of tooth as possible. This new way is often referred to as minimally invasive dentistry (MID).
The primary goal of MID treatment is to intercept and treat decay as early as possible to minimize tooth damage. It begins with helping patients identify their own individual risk factors for decay such as the presence of disease-causing bacteria, the adequacy of their saliva flow, or their lifestyle and dietary habits. We then recommend changes or preventive measures to reduce those risks.
The next step in MID is using various diagnostic technologies to find decay as early as possible. X-rays continue to play a major role, but dentists are also using dental microscopy to magnify the earliest forms of decay. Many also utilize laser fluorescence, infrared photography and optical scanning to further "see" decay difficult to detect with the naked eye.
In regard to treatments, MID adopts the adage "less is more." If caught early enough, we can encourage the re-mineralization of enamel that acid has eroded with CPP-ACP, a substance acquired from milk, or strengthen teeth with topical fluoride applications. Instead of the dental drill, many dentists now turn to air abrasion for decay removal, equipment that emits a fine stream of abrasive particles that harms less healthy structure than a drill.
And if lasers continue to develop at their current pace, we'll be able to use this technology to perform much more precise decay treatment than possible with manual instruments. As a result, we'll be able to treat decayed teeth with less invasive means to preserve as much healthy structure as possible.
As these and other developments continue, MID promises a bright future for preventing and treating tooth decay. As a result, there'll be less tooth structure loss and more attractive and healthy smiles.
If you would like more information on the latest techniques for treating tooth decay, please contact us or schedule an appointment for a consultation. You can also learn more about this topic by reading the Dear Doctor magazine article "Minimally Invasive Dentistry."
By Daniel J Poticny DDS
April 25, 2018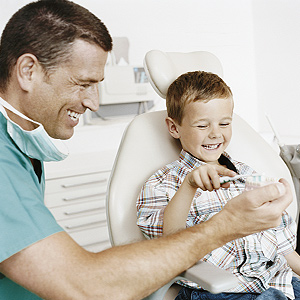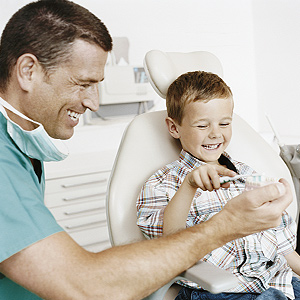 While the prevention and treatment of tooth decay has improved dramatically over the last half century, it continues to be a major health issue, especially for children. One in four children 5 and younger will develop some form of the disease.
Although tooth decay in children stems from the same causes as in adults — the presence of decay-causing bacteria in plaque, unprotected teeth and the right mix of carbohydrates like sugar left in the mouth — the means by which it occurs may be different. We even define tooth decay differently in children as Early Childhood Caries (ECC), "caries" the dental profession's term for tooth decay.
ECC highlights a number of cause factors specific to young children, such as: continuous use of a bottle or "sippy cup" filled with juice or other sweetened beverages; at-will breast-feeding throughout the night; use of a sweetened pacifier; or regular use of sugar-based oral medicine to treat chronic illness.
If you noticed sugar as a common denominator in these factors, you're right. As a primary food source for bacteria, refined sugar is a major trigger for the disease especially if it constantly resides in the mouth from constant snacking or sipping. In fact, it's the primary driver for a particular pattern of decay known as Baby Bottle Tooth Decay (BBTD). This pattern is specifically linked to sleep-time bottles filled with juice, milk, formula or other sweetened beverages, given to an infant or toddler to help soothe them through the night or during naps.
All these factors cause a cycle of decay. To interrupt that cycle, there are some things you as a parent should do: perform daily hygiene with your child to reduce decay-causing bacteria; reduce the amount and frequency of carbohydrates in the diet, particularly sugar; and protect the teeth by having us apply fluoride or sealants directly to the teeth.
Early tooth decay could affect your child's oral health for years to come. With a little care and vigilance, you improve your chances of avoiding that encounter.
If you would like more information on preventing tooth decay in children, please contact us or schedule an appointment for a consultation. You can also learn more about this topic by reading the Dear Doctor magazine article "Dentistry & Oral Health for Children."