My Blog
Posts for tag: pediatric dentistry
By Daniel J Poticny DDS
March 25, 2020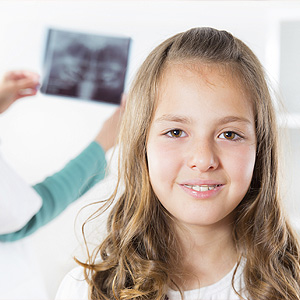 It's important for your child's current and future health that we watch out for tooth decay. Taking x-rays is a critical part of staying one step ahead of this common disease.
But while x-ray imaging is commonplace, we can't forget it's still a form of radiation that could be potentially harmful, especially for a child whose tissues are rapidly developing. We must, therefore, carefully weigh the potential benefits against risk.
This concern has given birth to an important principle in the use of x-rays known as ALARA, an acronym for "As Low As Reasonably Achievable." In basic terms, we want to use the lowest amount of x-ray energy for the shortest period of time to gain the most effectiveness in diagnosing tooth decay and other conditions.
A good example of this principle is a common type of radiograph known as a bitewing. The exposable x-ray film is attached to a plastic devise that looks like a wing; the patient bites down on it to hold it in place while the x-ray exposure takes place. Depending on the number of teeth in a child's mouth, an appointment usually involves 2 to 4 films, and children are typically spaced at six months apart. Frequency of x-rays depends on your child's tooth decay risk: lower risk, less need for frequent intervals.
Each bitewing exposes the child to 2 microsieverts, the standard unit for radiation measurement. This amount of radiation is relatively low: by contrast, we're all exposed to 10 microsieverts of background radiation (natural radiation occurring in the environment) every day or 3,600 microsieverts annually. Even two appointments of four bitewings each year is a fraction of a percent of the background radiation we're exposed to in the same year.
This conservative use of x-rays is well within safe parameters for children. As x-ray technology continues to advance (as with the development of digital imaging) we anticipate the exposure rate to diminish even more. Prudently used, x-rays remain one of our best tools for ensuring your child's teeth are healthy and developing normally.
If you would like more information on the use of x-rays with children, please contact us or schedule an appointment for a consultation. You can also learn more about this topic by reading the Dear Doctor magazine article "X-Ray Safety for Children."
By Daniel J Poticny DDS
March 21, 2019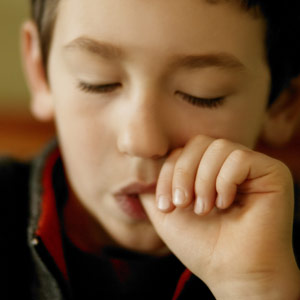 One of the most frequent concerns parents express to us is their child's thumb or finger sucking habit. The good news, though, is that thumb sucking is a completely normal activity for babies and young children, and if they stop by age 4 it should have no adverse effects on their future bite.
In fact, there are positive aspects to thumb sucking: it provides babies with a sense of security, as well as a way to learn about the world. As a child grows and becomes more confident with their surroundings, the thumb sucking habit will fade and eventually stop: for most children this occurs between the ages of two and four.
If, however, the habit continues later in childhood, there is a chance the upper front teeth may be influenced to tip toward the lip during eruption and come into an improper position that could also adversely affect jaw development. The same concern exists for pacifier use — we recommend weaning a child off a pacifier by the time they're eighteen months of age.
If your child still has a thumb or finger sucking habit as they prepare to enter school, it's quite appropriate to work on getting them to stop. Punishment, shaming or similar negative approaches, however, aren't the best ways to accomplish this: it's much more effective to try to modify their behavior through reward, praise or some creative activity.
Another factor that may help is to begin regular dental visits around their first birthday. Regular checkups give us a chance to monitor the development of their bite, especially if thumb sucking continues longer than normal. We can also assist you with strategies to encourage them to stop thumb sucking or pacifier use.
Thumb sucking that continues later than normal isn't a cause for panic, but it does require attention and action. Helping your child "grow" past this stage in their life will improve their chances of developing a normal and healthy bite.
If you would like more information on thumb sucking, please contact us to schedule an appointment for a consultation. You can also learn more about this topic by reading the Dear Doctor magazine article "Thumb Sucking in Children."
By Daniel J Poticny DDS
April 25, 2018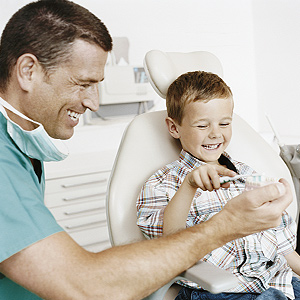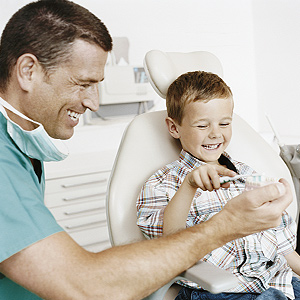 While the prevention and treatment of tooth decay has improved dramatically over the last half century, it continues to be a major health issue, especially for children. One in four children 5 and younger will develop some form of the disease.
Although tooth decay in children stems from the same causes as in adults — the presence of decay-causing bacteria in plaque, unprotected teeth and the right mix of carbohydrates like sugar left in the mouth — the means by which it occurs may be different. We even define tooth decay differently in children as Early Childhood Caries (ECC), "caries" the dental profession's term for tooth decay.
ECC highlights a number of cause factors specific to young children, such as: continuous use of a bottle or "sippy cup" filled with juice or other sweetened beverages; at-will breast-feeding throughout the night; use of a sweetened pacifier; or regular use of sugar-based oral medicine to treat chronic illness.
If you noticed sugar as a common denominator in these factors, you're right. As a primary food source for bacteria, refined sugar is a major trigger for the disease especially if it constantly resides in the mouth from constant snacking or sipping. In fact, it's the primary driver for a particular pattern of decay known as Baby Bottle Tooth Decay (BBTD). This pattern is specifically linked to sleep-time bottles filled with juice, milk, formula or other sweetened beverages, given to an infant or toddler to help soothe them through the night or during naps.
All these factors cause a cycle of decay. To interrupt that cycle, there are some things you as a parent should do: perform daily hygiene with your child to reduce decay-causing bacteria; reduce the amount and frequency of carbohydrates in the diet, particularly sugar; and protect the teeth by having us apply fluoride or sealants directly to the teeth.
Early tooth decay could affect your child's oral health for years to come. With a little care and vigilance, you improve your chances of avoiding that encounter.
If you would like more information on preventing tooth decay in children, please contact us or schedule an appointment for a consultation. You can also learn more about this topic by reading the Dear Doctor magazine article "Dentistry & Oral Health for Children."