My Blog
Posts for tag: cosmetic dentistry
By Daniel J Poticny DDS
December 11, 2018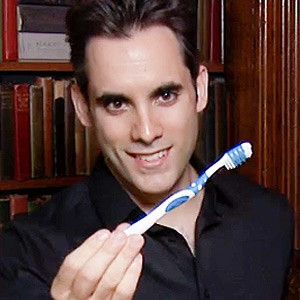 Magician Michel Grandinetti can levitate a 500-pound motorcycle, melt into a 7-foot-tall wall of solid steel, and make borrowed rings vanish and reappear baked inside bread. Yet the master illusionist admits to being in awe of the magic that dentists perform when it comes to transforming smiles. In fact, he told an interviewer that it's "way more important magic than walking through a steel wall because you're affecting people's health… people's confidence, and you're really allowing people to… feel good about themselves."
Michael speaks from experience. As a teenager, his own smile was enhanced through orthodontic treatment. Considering the career path he chose for himself — performing for multitudes both live and on TV — he calls wearing an orthodontic device (braces) to align his crooked teeth "life-changing." He relies on his welcoming, slightly mischievous smile to welcome audiences and make the initial human connection.
A beautiful smile is definitely an asset regardless of whether you're performing for thousands, passing another individual on a sidewalk or even, research suggests, interviewing for a job. Like Michael, however, some of us need a little help creating ours. If something about your teeth or gums is making you self-conscious and preventing you from smiling as broadly as you could be, we have plenty of solutions up our sleeve. Some of the most popular include:
Tooth Whitening. Professional whitening in the dental office achieves faster results than doing it yourself at home, but either approach can noticeably brighten your smile.
Bonding. A tooth-colored composite resin can be bonded to a tooth to replace missing tooth structure, such a chip.
Veneers. This is a hard, thin shell of tooth-colored material bonded to the front surface of a tooth to change its color, shape, size and/or length; mask dental imperfections like stains, cracks, or chips, and compensating for excessive gum tissue.
Crowns. Sometimes too much of a tooth is lost due to decay or trauma to support a veneer. Instead, capping it with a natural-looking porcelain crown can achieve the same types of improvements. A crown covers the entire tooth replacing more of its natural structure than a veneer does.
If you would like more information about ways in which you can transform your smile, please contact us or schedule an appointment for a consultation. You can also learn more about the techniques mentioned above by reading the Dear Doctor magazine articles "Teeth Whitening," "Repairing Chipped Teeth," and "Porcelain Crowns & Veneers."
By Daniel J Poticny DDS
June 14, 2018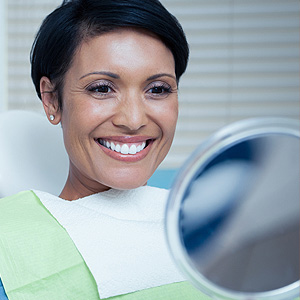 "Redesigning" a smile is a lot like remodeling a house: the technicalities of construction must blend seamlessly with what is perceived as elegant and beautiful. The first aspect — the proper materials and techniques to achieve a sound restoration — is absolutely crucial. But the aesthetic is just as important for assuring the final restoration evokes beauty and style.
Balancing these two aspects of a smile makeover requires thoughtful intent and planning. What may be pleasing aesthetically may not be technically feasible; but what may be technically sound may not have that sought-after "curb appeal."
You and your dentist must work together to achieve the successful blending of these two aspects. That's why it's important for you to have full confidence in your dentist: that he or she is both technically skilled and experienced in cosmetic procedures and artistically aware of what will look best aesthetically.
The first step in your makeover is a thorough dental examination to determine the overall state of your oral health. With this "bigger picture," your dentist will have a better understanding of what's possible and practical for you and your situation. The exam may also reveal problems that should be treated first before any cosmetic work.
From there, you must communicate clearly to your dentist what you perceive as wrong with your smile and what you would like to have changed. While there are general principles of beauty best followed, your dental work could hypothetically take different paths depending on your desires and expectations. You might prefer a more "sexy" look or one that's "sophisticated." Or perhaps you only want subtle changes that still retain features expressing your individuality.
Ultimately, though, your expectations must line up with reality. Much like your house contractor, your dentist will advise you on what's both practical and possible. And with their experience in smile enhancement, they can also help you determine what will look most attractive given your facial structure and features.
With this preliminary planning, you can be confident as the work proceeds that the end of the project will be both exciting and satisfying. And just as with your newly renovated home, you'll be more than happy to share your smile with others.
If you would like more information on enhancing your smile through cosmetic dentistry, please contact us or schedule an appointment for a consultation. You can also learn more about this topic by reading the Dear Doctor magazine article "Beautiful Smiles by Design."
By Daniel J Poticny DDS
December 15, 2017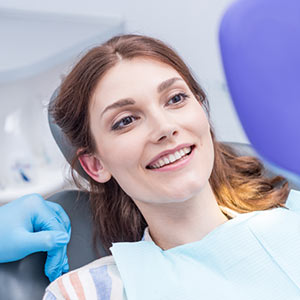 The holidays are a season for giving. At this time of year, lots of us spend hours rushing around, looking for the perfect gifts for people we care about. But sometimes, amidst all the hustle and bustle, it doesn't hurt to step back and think about yourself a little. If a better-looking smile has been on your list but you haven't taken the first steps, the holiday season might be the right time to give yourself a gift.
Many smile problems, like discolored, chipped or uneven teeth, can be resolved with veneers—wafer-thin porcelain shells that cover the front surfaces of teeth. Veneers are custom-made just for you: They can have a pearly luster to match your existing teeth, or be Hollywood-white for a dazzling red-carpet smile. In just a few visits to the dental office, you can have the smile you've always wanted—and a whole new look for the New Year.
If damaged or missing teeth are what's bothering you, you'll be happy to know that there are lots of good options for replacing them. If the tooth's roots are still in good shape, a crown or cap could be the answer. This is a sturdy replacement for the entire visible part of the tooth that not only looks great, but also functions well in your bite—and can last for years to come.
If teeth are missing or can't be saved, we offer several options for replacement, including fixed (non-removable) bridgework and dental implants. A tried-and-true method for replacing one or more missing teeth, bridges are firmly supported by healthy teeth next to the gap in your smile. These teeth must be prepared to receive the bridge by having some of the tooth's surface removed.
Dental implants are today's premier option for tooth replacement. In this high-tech system, a root-like titanium insert, placed directly into the bone beneath the gum, forms a solid anchorage for the visible part of the replacement tooth. Implants look and feel completely natural, and can last for many years. Plus, they don't require any work to be done on nearby teeth.
What kind of smile makeover is right for you? Just ask us! We will be happy to take a look at your smile and recommend a treatment plan. And in this season of generosity, there's no better gift you can give yourself than a bright new smile.
You can learn more about smile makeovers by reading the Dear Doctor magazine article "Beautiful Smiles by Design."