My Blog
Posts for tag: bridgework
By Daniel J Poticny DDS
November 15, 2021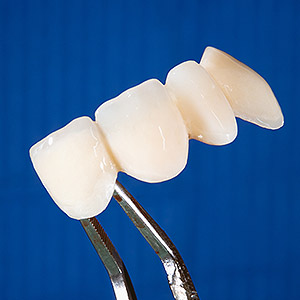 Our primary aim as dentists is to preserve teeth. There are times, however, when preserving a tooth is no longer worth the effort and we must recommend removing it. Fortunately, extracted teeth can be replaced with a functional and attractive restoration.
Today's top tooth-replacement option is the dental implant. Composed of a titanium metal post imbedded into the jawbone, a single dental implant can replace an individual tooth or a series of implants can support other restorations for multiple teeth. Besides being incredibly life-like, dental implants are highly durable and can last for decades.
But dental implants aren't an optimal choice for everyone. Their cost often matches their status as the premier tooth replacement method. And because they require a minimum amount of bone for proper implantation, they're not always feasible for patients with extensive bone loss.
But even if dental implants aren't right for you, and you want a fixed restoration rather than dentures, you still have options. What's more, they've been around for decades!
One is a bonded crown, which works particularly well for a tooth excessively damaged by decay, excessive wear or fractures. After removing all of the damaged portions and shaping the remaining tooth, we cement a life-like crown, custom created for that particular tooth, over the remaining structure.
Besides improving appearance, a crown also protects the tooth and restores its function. One thing to remember, though, is although the crown itself is impervious to disease, the remainder of the natural tooth isn't. It's important then to brush and floss around crowned teeth like any other tooth and see a dentist regularly for cleanings.
Dental bridges are a fixed solution for extracted teeth. It's composed of prosthetic teeth to replace those missing bonded together with supporting crowns on both ends. These crowned teeth are known as abutments, and, depending on how many teeth are being replaced, we may need to increase the number of abutments to support the bridge.
Although durable, crowns or bridges typically don't match the longevity of an implant. And, implants don't require the permanent alteration of support teeth as is necessary with a bridge. But when the choice of implants isn't on the table, these traditional restorations can be an effective dental solution.
If you would like more information on crown or bridge restorations, please contact us or schedule an appointment for a consultation. You can also learn more about this topic by reading the Dear Doctor magazine article "Crowns & Bridgework."
By Daniel J Poticny DDS
March 31, 2019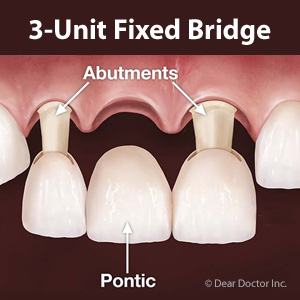 We can do a great many things to preserve diseased teeth, from filling cavities to crowning damaged but still viable teeth to protect them and restore their attractiveness. But there may come a point where continued treatment just isn't worth it, and it may be time to remove and replace your troubled teeth.
Dental implants have become the premier restoration for missing teeth. But they have some anatomical limitations and may not work for some situations like excessive bone loss or close nerve proximity. And while a removable partial denture is a solid option, perhaps you'd rather have a fixed solution.
You might then want to consider a fixed bridge to replace one or more missing teeth. This tried and true option has been a mainstay in dentistry for several decades; and while implants may have surpassed them in popularity, they're still available and effective as a restorative option.
A traditional fixed bridge is composed of three or more life-like crowns that are fused together like pickets in a fence. The crown or crowns in the middle fill the empty tooth space; the outside crowns fit over and are bonded to the natural teeth on either side of the empty space to support the bridge. These natural teeth must be reduced in size to accommodate the crowns to fit over them.
Depending on how many teeth are missing, fixed bridges can be a more affordable alternative to dental implants and can achieve life-like results in both form and dental function. But the alterations required for the supporting teeth are permanent and can weaken them. The interface between the natural teeth and the bridge crowns has a higher risk of decay and periodontal disease, so you'll need to be extra vigilant with daily hygiene and regular dental cleanings and checkups.
And even though implants can be more expensive in the short-term, they typically have better durability and less maintenance costs than other restorations. Over the long-term, an implant restoration might actually incur less cost than a fixed bridge.
Still, a fixed bridge can be an effective way to replace missing teeth. Depending on your finances and your overall dental health, a bridge could help you regain an attractive smile.
If you would like more information on options for replacing missing teeth, please contact us or schedule an appointment for a consultation. You can also learn more about this topic by reading the Dear Doctor magazine article "Crowns & Bridgework."