My Blog
Posts for: November, 2021
By Daniel J Poticny DDS
November 15, 2021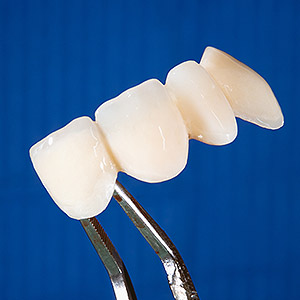 Our primary aim as dentists is to preserve teeth. There are times, however, when preserving a tooth is no longer worth the effort and we must recommend removing it. Fortunately, extracted teeth can be replaced with a functional and attractive restoration.
Today's top tooth-replacement option is the dental implant. Composed of a titanium metal post imbedded into the jawbone, a single dental implant can replace an individual tooth or a series of implants can support other restorations for multiple teeth. Besides being incredibly life-like, dental implants are highly durable and can last for decades.
But dental implants aren't an optimal choice for everyone. Their cost often matches their status as the premier tooth replacement method. And because they require a minimum amount of bone for proper implantation, they're not always feasible for patients with extensive bone loss.
But even if dental implants aren't right for you, and you want a fixed restoration rather than dentures, you still have options. What's more, they've been around for decades!
One is a bonded crown, which works particularly well for a tooth excessively damaged by decay, excessive wear or fractures. After removing all of the damaged portions and shaping the remaining tooth, we cement a life-like crown, custom created for that particular tooth, over the remaining structure.
Besides improving appearance, a crown also protects the tooth and restores its function. One thing to remember, though, is although the crown itself is impervious to disease, the remainder of the natural tooth isn't. It's important then to brush and floss around crowned teeth like any other tooth and see a dentist regularly for cleanings.
Dental bridges are a fixed solution for extracted teeth. It's composed of prosthetic teeth to replace those missing bonded together with supporting crowns on both ends. These crowned teeth are known as abutments, and, depending on how many teeth are being replaced, we may need to increase the number of abutments to support the bridge.
Although durable, crowns or bridges typically don't match the longevity of an implant. And, implants don't require the permanent alteration of support teeth as is necessary with a bridge. But when the choice of implants isn't on the table, these traditional restorations can be an effective dental solution.
If you would like more information on crown or bridge restorations, please contact us or schedule an appointment for a consultation. You can also learn more about this topic by reading the Dear Doctor magazine article "Crowns & Bridgework."
By Daniel J Poticny DDS
November 05, 2021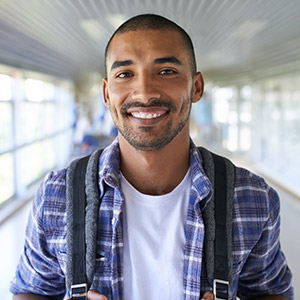 As summer wanes, thousands of high school grads will begin the new adventure called college. For many of these "freshmen," it will also be their first taste of true independence—mom and dad and the guidance they normally provide will be far away.
This is generally a good thing. But there are also consequences to making (or not making) your own choices that can have long-lasting effects, some of which may not be pleasant. For example, neglecting teeth and gum care could disrupt oral health (as well as overall health) for years or even decades to come.
As your newly minted college student sets off on their new academic journey, be sure that among the advice you give them are these 3 important dental care habits.
Brush and floss daily. It's important to stress that among the things of childhood to leave behind, oral hygiene isn't one of them. Dental disease is mainly caused by dental plaque, a thin bacterial film that accumulates on teeth. Removing plaque daily with brushing and flossing greatly reduces disease risk. It's a top priority, even with a hectic college schedule.
Eat "tooth-friendly." That hectic schedule may also tempt them to grab whatever food is quick and available. Unfortunately, such food isn't always the healthiest, especially for teeth and gums. Foods and snacks loaded with sugar are especially perilous to oral health—sugar feeds the bacteria that cause tooth decay and gum disease. Healthier food choices contribute to healthier teeth and gums.
Avoid bad habits. The exhilaration of new independence can lead to a flurry of bad habits, some of which could affect teeth and gum health. Using tobacco increases the risk of dental disease and oral cancer. Wearing lip piercings or tongue jewelry may cause tooth damage. And certain forms of unprotected sex raise the chances of viral infection and an increased risk of oral cancer.
College can be an exciting adventure. But there are pitfalls along the way, especially for oral health. Advising your college student to follow these tips will help ensure their teeth and gums stay healthy beyond graduation.
If you would like more information on ways to keep your student's teeth and gums healthy, please contact us or schedule an appointment for a consultation. You can also learn more about this topic by reading the Dear Doctor magazine article "10 Health Tips For College Students."