My Blog
Posts for: February, 2019
By Daniel J Poticny DDS
February 19, 2019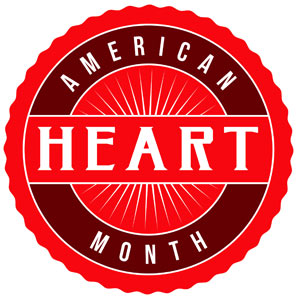 At this time of year, hearts are everywhere you look, so it's fitting that February is American Heart Month, a time to focus on cardiovascular health. Cardiovascular disease, which includes heart disease and stroke, is the number one cause of death around the world. But did you know that there's a link between the health of your heart and the health of your mouth?
People with advanced gum disease have a higher risk of having a heart attack, stroke or other cardiovascular event, but what is the connection? For one, oral bacteria found in gum disease can enter the bloodstream, where it has been found in artery-clogging plaque. In addition, untreated gum disease has been determined to worsen high blood pressure, a major contributor to heart attack, stroke and heart failure. One study reported that when gum disease was treated, high blood pressure fell by up to 13 points. But perhaps the most significant common denominator between gum disease and heart disease is inflammation, according to many researchers.
Gum disease is the most common inflammatory disease, affecting nearly 50% of US adults over 30, and 70% of those aged 65 and older, according to the U.S. Centers for Disease Control. The body's inflammation response is a key weapon in fighting infection. However, when there is chronic low-level inflammation such as occurs with untreated periodontal (gum) disease, many adverse health effects can result. In one Harvard University study, chronic inflammation was found to triple the risk of heart attack and double the risk of stroke.
The relationship between gum disease and heart disease is still not completely understood, but there's no denying that a connection exists between the two, so it's worth doing what you can to take care of both your gums and your cardiovascular health. Here are some tips:
Eat a heart-healthy—and gum-healthy—diet. A diet low in refined carbohydrates, high in fiber, vitamins C and D, antioxidants and Omega-3s has been shown to lower inflammation, benefitting your gums and your heart.
Quit smoking. Using tobacco in any form is a risk factor for developing both gum disease and heart disease.
Take care of your oral health. Gum disease can often be prevented—and reversed if caught early—simply with good oral hygiene, so be diligent about brushing your teeth twice a day and flossing once a day.
Come in for regular cleanings and checkups. Regular cleanings can help keep your gums healthy, and an examination can determine if you have gum disease. Be sure to tell us about any medical conditions or medications.
As you think about what you can do to take care of your heart health and overall health, don't forget your gums. If you have questions about how to improve your oral health, call us or schedule a consultation. You can learn more in the Dear Doctor magazine articles "Good Oral Health Leads to Better Health Overall" and "Carbohydrates Linked to Gum Disease."
By Daniel J Poticny DDS
February 09, 2019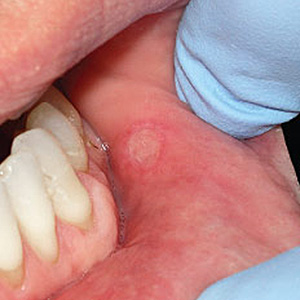 Canker sores, known medically as aphthous ulcers, are fairly common among people. Lasting for about a week or so, these mouth sores are usually more irritating than painful. But about a quarter of the population, especially women, frequently suffer from an acute form that doesn't often respond well to over-the-counter remedies.
A typical canker sore is usually round with a yellow-gray center ringed by a reddened "halo." They can be preceded by tingling or painful sensations at the site a few hours or so before breaking out. Recurrent aphthous stomatitis (RAS) is the more severe form of canker sore, often with outbreaks of multiple painful sores. While the more common sore is usually less than a centimeter in diameter, RAS sores are often much larger.
Canker sores often arise during periods of stress or anxiety, and seem to be connected with eating certain acidic foods like tomato sauce, citrus fruits or spicy dishes. RAS also seems to be related to underlying systemic conditions like vitamin deficiencies, anemia or digestive disorders. Besides managing diet and stress, people with regular canker sores and milder cases of RAS can often find relief with non-prescription numbing agents often found in stores and pharmacies.
For more severe RAS, though, you may need the help of your dentist or physician with treatments like prescription steroids or other medications that come in gel or rinse form or through injections. The goal of any treatment approach is to decrease pain severity and shorten healing times after an outbreak.
While most mouth sores, including RAS, aren't dangerous to your health, you should still take any sore seriously. You should especially seek medical evaluation if a sore doesn't heal after a couple of weeks, if they seem to come more frequently and are more severe, or if you don't seem to ever be without a sore in your mouth. These could indicate a serious underlying problem that needs to be addressed.
One thing's for sure: there are ways to ease your suffering if you have frequent bouts with regular canker sores or even RAS. Talk to your dentist about ways to minimize your discomfort from these irritating mouth sores.
If you would like more information on aphthous ulcers or canker sores, please contact us or schedule an appointment for a consultation. You can also learn more about this topic by reading the Dear Doctor magazine article "Mouth Sores."